A Note On Custom Orders
If you are interested in an item in the online store that is not available in your size or fabric preference, I will be happy to work with you to create a custom garment. Additionally, several images on the homepage of the store display garments that are not currently listed in our online catalog. These garments may also be available for custom creation. Please do not hesitate to contact marla@marladuran.com with any inquiries.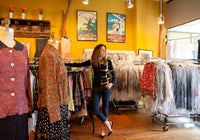 Meet Marla
I've been designing and making clothes under my label for over 25 years. My main emphasis is shirts with signature details such as patches in contrasting patterns, a detail I started doing back in 1990! My clothes are original, sophisticated, and easy to wear, appealing to a wide range of age groups and sizes. I love meeting the women who buy and wear my clothes!
Marla Duran Clothing & Accessories
109 E 3rd St, Bethlehem, PA 18015
(610) 392-5595
marladurandesign@gmail.com
TALK OF THE TOWN
Love my Marla Duran shirts! They are now nearly 15 years old, but still showstoppers. You'll never be sorry you own Marla Duran clothes.
I bought a skirt from Marla a couple of years ago and it is still my favorite item in my closet!
If you can, seek out Marla Duran Design items. When you wear them, you'll turn heads in admiration, and maybe even earn that second look!